Maui Babymoon
Bry and I knew we wanted to go on a babymoon but struggled with our decision on where to go. We ruled out anywhere with zika, even if it had been cleared because I'm extremely prone to bug bites and knew that I would be on edge the whole trip thinking that the last mosquito hiding on the island would somehow find me. Living on the east coast and removing all of the Caribbean, that doesn't leave you with many options. I went to Hawaii for Spring Break in college but Bry had never been and it was always on his list. We knew we wanted to go somewhere warm and went back and forth between just doing something closer like Florida or Arizona but ultimately decided to make the trek to Hawaii and it was the best decision EVER. We figured that although we still plan on traveling with the baby, we're not going to be choosing places that are this far away so now was the time.
We left for the trip when I was 27 weeks and 3 days and came back when I was 28 weeks and 5 days so we technically got back just in time for third trimester and my "third trimester" symptoms literally started to kick in that day (I'm sure this was also a mix of jet lag too). This was the perfect time to travel. I felt amazing the entire trip and was completely comfortable with the travel.
Traveling while pregnant tips: we split our flights up into two on the way there and two on the way back and had layovers in San Diego. Luckily one of my best friends lives there so we were able to stay with them for a night on the way there and back which really helped. I don't think I would have been comfortable with the 12 hour direct flight. Here is our flight booking secret: book the window and aisle seat…this way if the flight isn't full, there's more of a chance that someone won't book the middle seat and if they do happen to, they would likely prefer to switch to either the aisle or the window in which case you can still sit next to each other. This worked for 3 out of 4 of our flights and we ended up getting the full row which was amazing. I was able to put my feet up across the middle seat and on Bry's lap. I also made sure to drink a TON of water, wore compression knee socks that I got on amazon and got up to walk up and down the aisles and swing my legs around every now and then.
Our itinerary:
1/18/19 - flight Newark (EWR) to San Diego (SAN), spent the night in San Diego

1/19/19 - flight San Diego (SAN) to Kahului (OGG) - airport in Maui, rented a convertible at the airport for the entire trip and drove to the first hotel: Hyatt Regency Maui Resort and Ka'anapali Beach (stayed here through 1/22)

1/22/19 - drove straight to Road to Hana (more on that below), then checked into our second hotel: The Andaz Maui at Wailea (my favorite!!!) …(stayed here through 1/26)

1/26/19 - returned rental car at airport, flight Kahului (OGG) to San Diego (SAN), spent the night in San Diego

1/27 - flight San Diego (SAN) to Newark (EWR)
First half of the trip at the Hyatt Regency:
This hotel was beautiful, oceanfront, and conveniently located. Anything you need was just a few minutes away in the car. You could also walk along the beach walk to other hotels, beaches, and shopping centers. This was where we used the car more and planned more activities during the day. The beach in front of the hotel was a little rocky so we ended up walking a few hotels down and rented chairs, snorkel gear and an umbrella to enjoy the beach there. We snorkeled there, walked to Black Rock Beach to snorkel, and drove to Honolua Bay (gorgeous walk through a stunning forest to the snorkel area) and Kapalua for more snorkeling. My baby was breach before this trip and flipped after the first day of snorkeling! I know because that night at dinner I felt kicks high up for the first time and continued to the rest of the trip and then the doctor confirmed it at my first visit when we got back. This part of the trip happened to fall over Bryan's birthday so we got massages at the hotel which was really nice, and something that you just have to do on any babymoon :) The hotel included workout classes out on the lawn so I took the sunrise ones (hatha yoga and mat pilates) which were overlooking the ocean and the perfect way to start your day. Bry went on runs or to the gym which impressively had Peloton bikes!
Food: when we booked the hotel we told them it was our babymoon and they comped us a free breakfast buffet which was good (loved the coffee) and the other days we walked to Whalers Village (a really cute outdoor shopping center on the beach walk with food, stores, etc.) to get acai bowls. For lunch, we ate at Aa' Roots (casual vegan lunch spot a few minutes drive away), and Hula Grill (right near Whalers Village). For dinner we ate at Japengo which was a sushi spot at the hotel (I treated myself to the raw sushi for the first time during my pregnancy and it was SO fresh and delicious…I still dream about that meal…they catch the fish literally that day so you don't have to worry as much about parasites, food-borne illness, etc.), Fleetwoods (the mahi with truffle mushroom risotto and house salad with macadamia nuts was DELISH, the octopus app and monchong fish was OK but you're really paying for the view and they also have a really cool Hawaiian sunset ceremony but you have to make sure to get a sunset reso on the rooftop). The food is expensive so make sure to pack a bunch of snacks - we had nuts, nut butter, fruits, bars, crackers, dried fruit, homemade trail mixes etc. that carried us over for some meals.
Halfway through the trip with Road to Hana: I was hesitant to do this pregnant. Between the windy roads, being in the car for so long, not knowing where the next bathroom would be, it just seemed like a stretch so we compromised on doing it, but not going all the way to the end, which ended up being perfect. I did get a little nauseous on the ride but nothing unbearable and it was worth it. Our stops:
Paia Bowls - not sure if this is technically on the road but it was on the start of our trip. It's a little hut and we got acai bowls and oat milk matchas…refreshing way to start the day!

Black Sand Beach - this was my favorite stop. We had already been to a Black Sand Beach in Iceland, but the contrast between the black sand, aqua ocean and greenery of the trees was something I will never forget. I think about it often.

Hamoa Beach - beautiful but nothing too special. Although the sand was insanely soft.

Red Sand Beach - we attempted to go here but after parking a local told us that it was a very slippery and dangerous hike we decided to pass. If I wasn't pregnant, we probably would have done it.

Nahiku Green Walk - beautiful lush green walk out to a cliff. This was nice because it's not as well known and there were only a few other people doing it.

Coconut Glen's Vegan Ice Cream - SO good and the perfect refreshing treat to get us through the ride home.

We ended our day at South Maui Fish Co. which is not on the Road to Hana but was closer to our hotel. This is a local fish truck that was recommended to us. It's nothing fancy but honestly was one of the best meals we ate on the trip. You CAN'T miss it. We tried to go back on our way to the airport but they're so popular that there's usually a line around the block and it sells out. We went on a Tuesday night probably around 7ish and there was no line but apparently there is at lunch time. Everything is caught fresh daily by local fisherman, locally sourced, nothing frozen and sustainably caught. This was one of the two times I ate raw fish on the island. We ordered the fresh catch of the day and then the owner (his name was Dave Chapelle and he was the nicest guy ever) kept bringing us out free food because he wanted us to try everything and each thing was better than the next (tuna poke, spicy tuna poke, smoked marlin dip, more slaw and then a tuna steak because they were closing and he said they don't keep anything for the next day…if it doesn't sell they get rid of it).

tip 1: If you're planning on downloading a road to hana app, make sure to do it before you start the journey! Your cell service will cut out pretty much right away. We had paid for an app (Road to Hana Maui Gypsy was recommended) at the start but then never picked up service again to download it. Luckily, we had a book that we used as our guide.

tip 2: there are a decent amount of bathrooms but stop whenever you see one. I had to pee in the bushes once because I waited too long!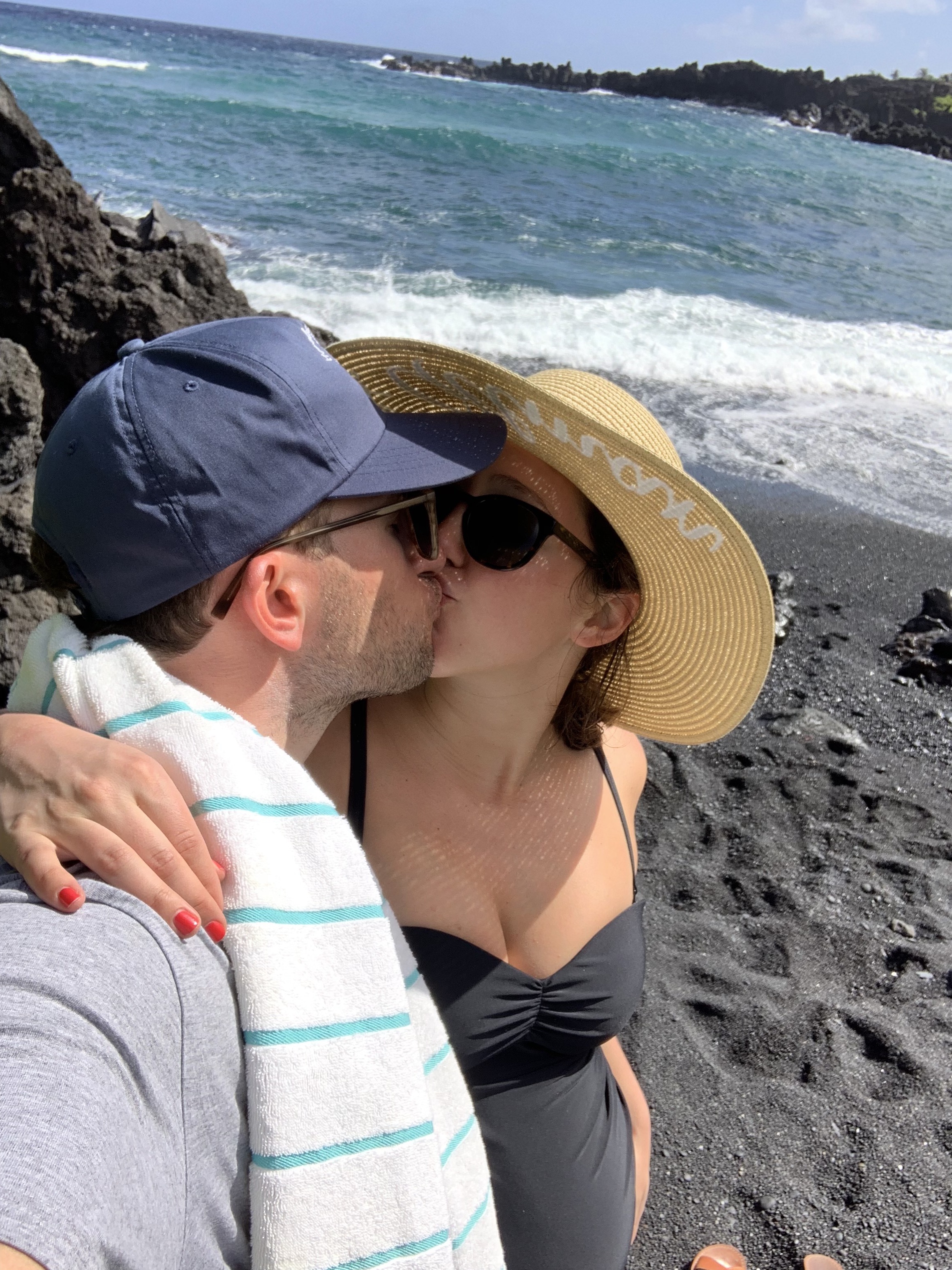 Second half of the trip at the Andaz Maui:
After running around the first few days and especially after Road to Hana, we were really ready to relax and that's exactly what we did the second half. We actually didn't even need the car because the hotel had included car service to bring you pretty much anywhere. I like that we split up the trip because we were able to see different beaches and parts of the island (west vs. southwest) but the Andaz was def my favorite. The biggest difference between the two was that they Hyatt Regnecy was more of a family resort, really crowded at the pool every day with tons of kids and the Andaz was more of a honeymoon / babymoon luxurious hotel. From the moment you walk in, they greet you with the most delicious lavender tea and you check in at the lobby where you overlook the 4 layers of infinity edge pools down to the beach. The hotel has a really cool new, trendy, modern feel to it and the staff is all so friendly and accommodating. The hotel rooms are also really cool with doors that open from the shower to the bedroom so you "don't miss sunset." For the most part, we spent our days waking up to a relaxing morning workout (sunrise yoga classes for me and gym for Bry, although I did convince him to come to yoga once!), and then rotating between the beach and the pool. The beach included chairs and then you could also rent snorkel gear for free. The water was completely clear and felt very safe because you could see everything around you. We brought goggles from home and swam laps in the ocean most days. The best part was that we were there during whale mating season and could hear them if you held your breath under water. We also saw them pretty much every day which never got old. There was also a ton of other included activities with the hotel (kayaking, paddle boarding, lei making classes, etc.) and a coconut class which we took. The pool was where we went when we wanted to read, nap and relax, even more. The best part of this hotel and possibly of the trip: they come around every day after lunch at the pool and on the beach with FREE MOCHI…and it is SO GOOD…doesn't compare to anything I've had here. There was also a nice beach walk here so we walked that when we wanted to get some movement in the afternoon. You can take it to the Shops at Wailea which is another outdoor shopping center. If you're obsessing over the mochi and on the hunt for more than just the one you get at the pool a day (I pulled the pregnancy card on my last day and asked for one more "for the baby" …should have done that every day!), you can get more at the Whalers General Store at the shops. We also loved walking down to the lawn in front of the beach to catch sunset.
Food: We did one dinner at Monkeypod which was good but other than that mostly ate at or around the hotel. We had made a reservation for the highly recommended Mama's Fish House but it was around 45 minutes away and the only reso we could get was late (around 9) so we figured that we wouldn't even be able to see it well because it would be dark / we were so relaxed at the hotel that we really just didn't want to leave. Some days we had breakfast from the hotel market or from the Shops at Wailea. For dinner we ate at the Lehua Grill at the hotel which was casual and nothing special and also at Ka'ana at the hotel which is farm-to-table and we loved. But the best meal of all (for me at least) was the hotel breakfast buffet. We went back and forth on whether we should do this, although it was highly recommended, because it was so expensive! We even went in to scope it out one day and it didn't really look like anything that special but trust me, it was. It's a good thing we did it on our last day because I would have wanted to go back every day. There was a juice bar, assortment of very fresh fruit, eggs, warm dishes such as miso soup, local fruits that we never heard of, gluten free options and best of all…the mochi waffles (which were also gluten-free, had a whole toppings bar of macadamia nuts, syrups, etc. and may be one of the best thing's I've ever eaten). Most days we ended up just having two meals and them maybe some snacks in the room.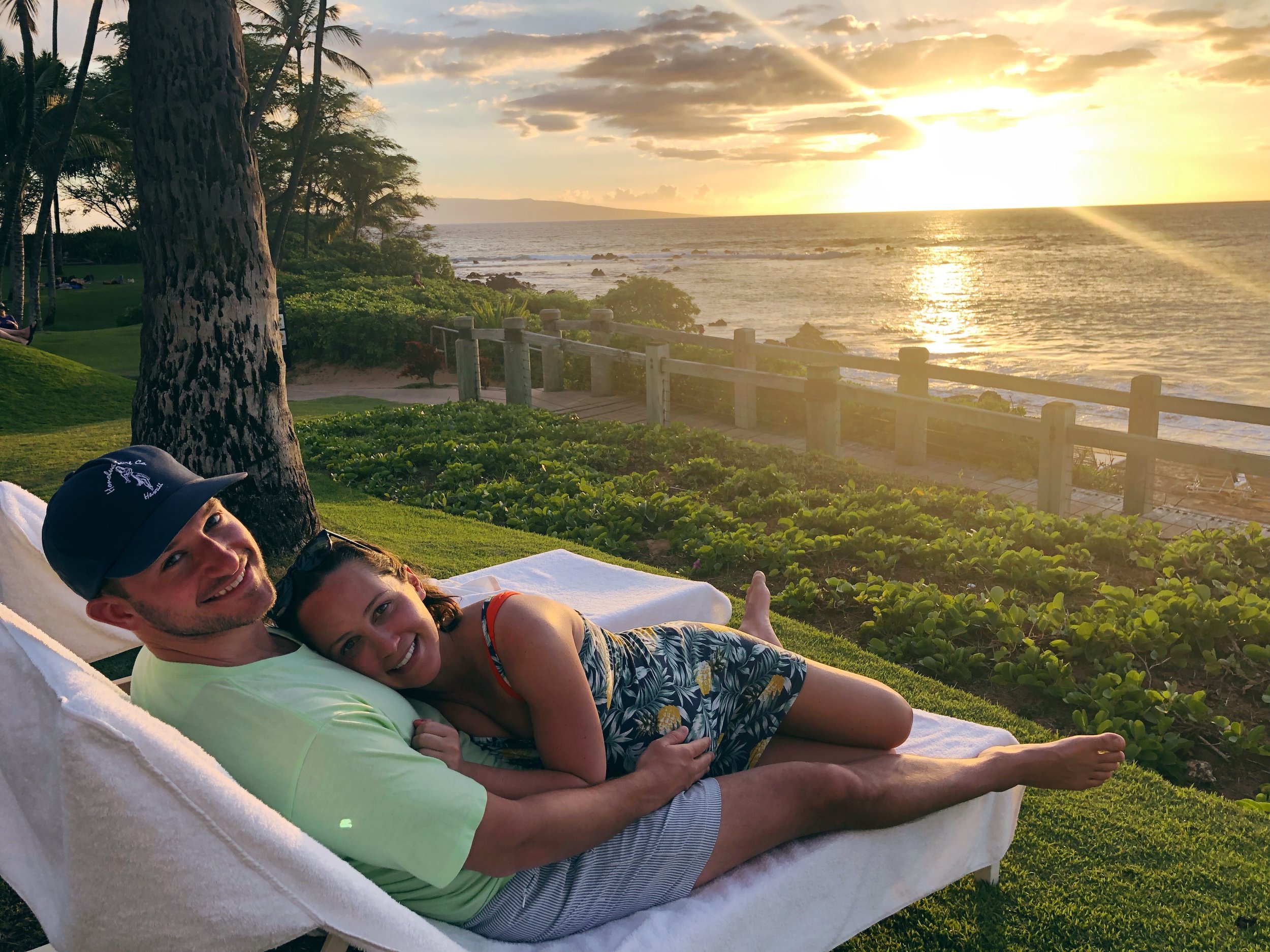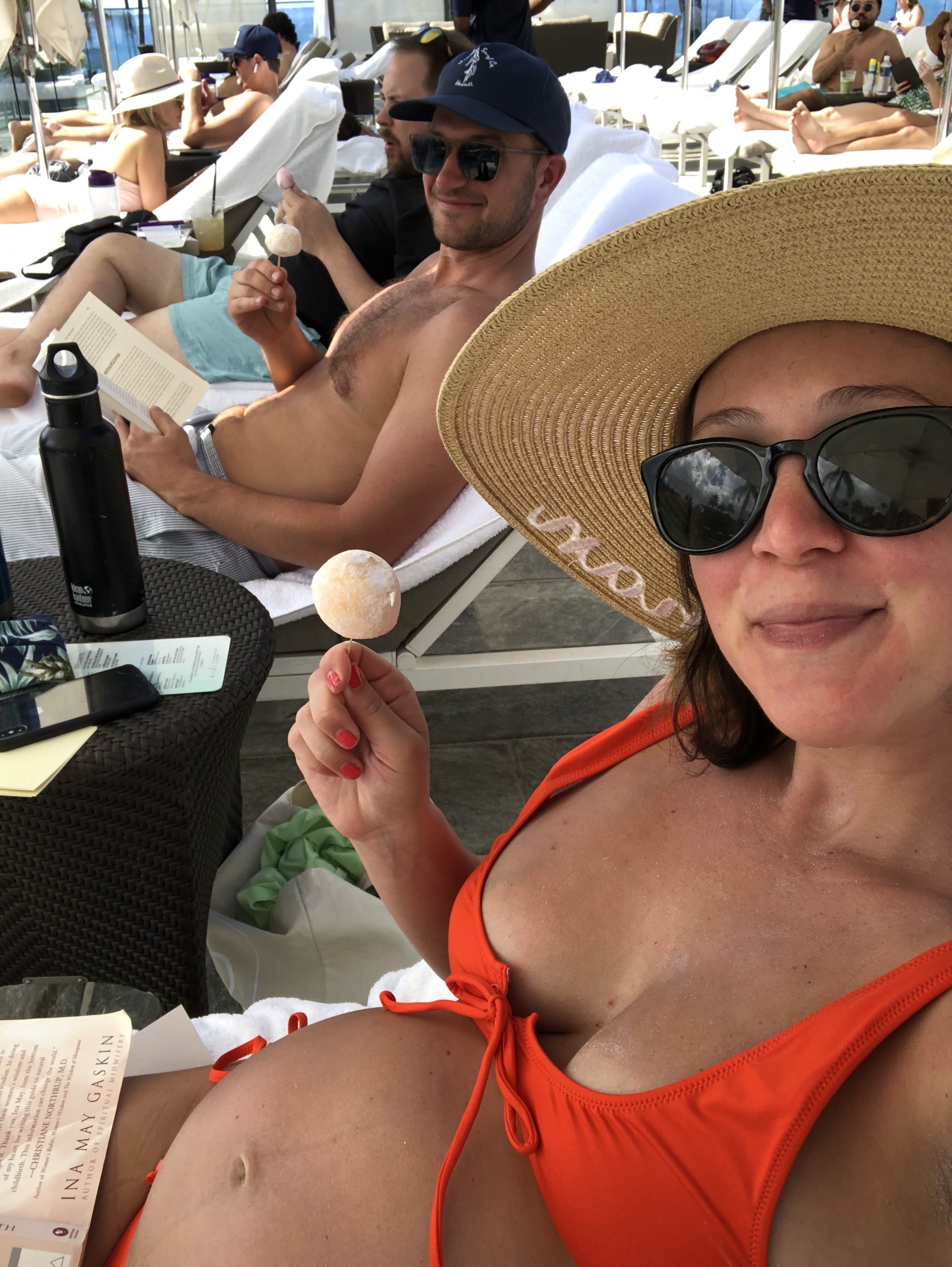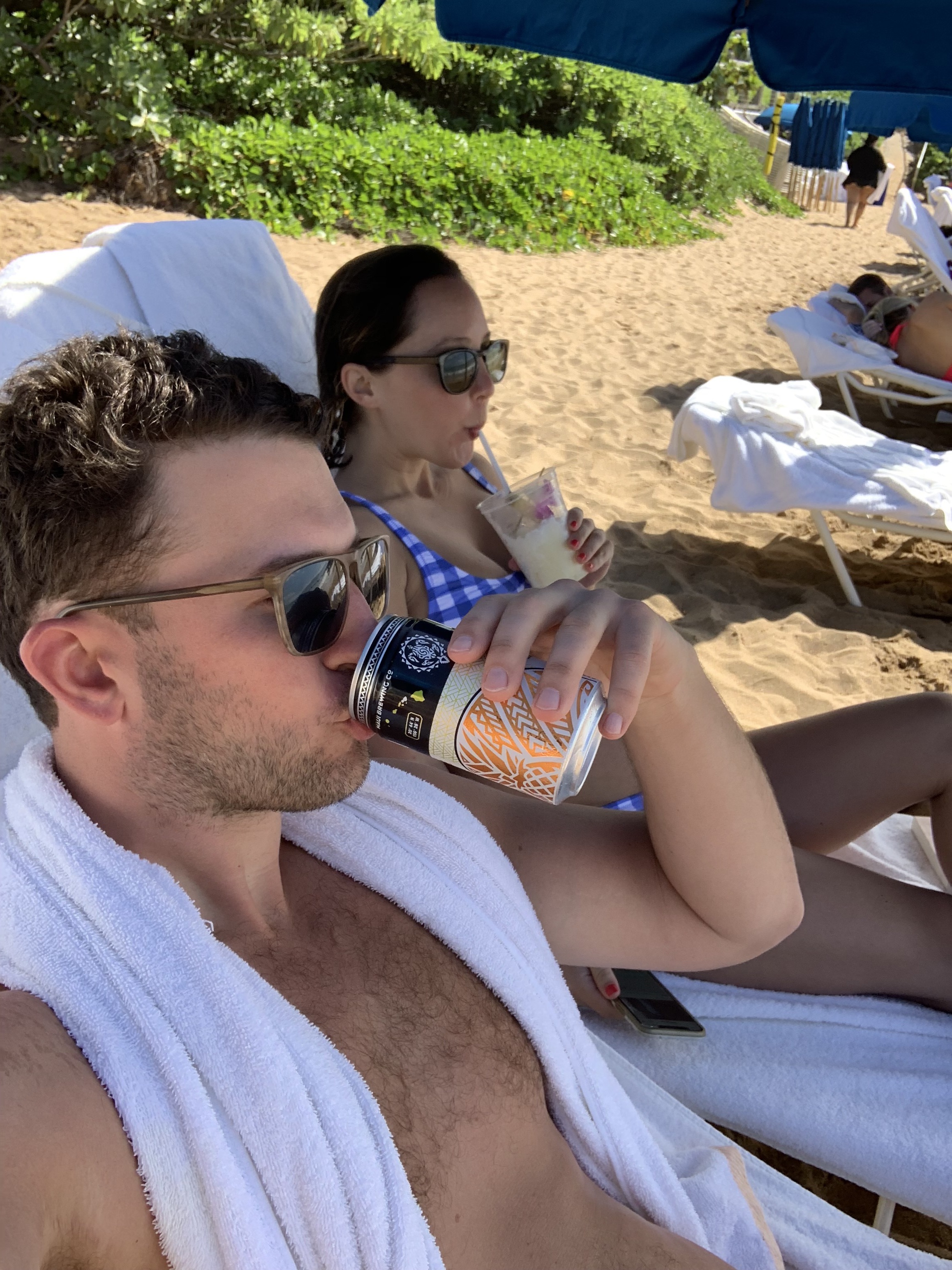 More pregnancy travel tips:
your skin is EXTRA sensitive when you're pregnant. I burned just on the 45 minute ride in the convertible from the airport to hotel! Bry burned too…the sun in Hawaii is strong in general but I burned more and the skin on your belly is very thin so make sure to come prepared with wide brimmed hats and lots of sunscreen. I found these non-toxic ones (face and body) that don't make you look like Casper and lasted us the whole trip. Some days I had to wrap myself in towels and stay under the umbrella most of the day to recover from the burns. I also highly recommend grabbing coconut oil packets sold at Trader Joe's. We lathered up with these every night post-sun before bed and it felt really good on the belly. It also helped hydrate my body while sleeping.

normally when we travel, Bry likes to make plans for every minute of the trip but for this one, he knew that I wouldn't be able to do as much so we left a lot of the schedule open and got to choose our plans each day (more my way of traveling) depending on how I was feeling. Overall I felt great, but definitely had less energy, less of a tolerance for heat, and couldn't be on my feet as much as I normally would be or do any strenuous workouts or hikes. We went on walks most days but my feet always needed a break after. I highly recommend leaving your schedule light…planning one activity or so a day, dinners, etc. but not being fully committed so much so you can see how you feel.

hydrate EXTRA in the sun, an obvious but can't stress it enough

we never fully adjusted to the time change which was actually really nice because we went to bed early every night (VERY early the first few nights by 8 or so, and stayed up "late" until 10 around the end of the trip) and woke up early naturally every day which meant making it to the sunrise workout classes!

Snorkel and/or swim on your belly if baby is still in the breach position at this point. It will encourage them to flip!

rock that bump and be PROUD of it. People are so nice and friendly when they see that you're pregnant … we even told random people the baby's name and one of the people we told had the same name which was SO weird because we both don't know anyone with the name! And take a bunch of pictures to remember this special time … have fun with it and bribe your husband to take funny pics like I did, this pic was shared on The Bump and made baby A insta famous and she doesn't even know it!
We couldn't have asked for more out of this trip and highly recommend it as a babymoon spot if you're looking for something extra special. It was so nice to get away from the every day hustle of work, school, baby planning, etc. and have one last trip with quality alone time together in a beautiful place with amazing food and nice people. And BIG thanks to my baby daddy for being the master trip planner…pretty sure he has his retirement passion career lined up <3